This Picture is Worth at Least 1000 Words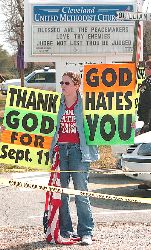 Katherine Hockenbarger of Westboro Baptist Church carries signs Sunday morning in front of Cleveland United Methodist Church. The Topeka, Kan., church sent members to White County to spend the weekend protesting the formation of a gay club at the county's only high school.

The right-wing media and bloggers have been all over Ward Churchill in the past weeks (and rightly so, what he said was completely over the top and ridiculous). I only hope their outrage isn't reserved for him. This is hard to beleive.
"They preach the big lie that God loves everybody," said Shirley Phelps-Roper, waving a sign at passers-by minutes before services began at Cleveland United Methodist Church, just off the town square.
Roped off on a side street next to the Methodist church, Phelps-Roper and seven other members of Westboro Baptist Church in Topeka, Kan., aimed their harshest criticism at the Rev. Phil Hoyt, whom the Kansas woman labeled 'lying, false prophet.'"
I guess Hoyt brought this on himself when he said gay people are, "persons of sacred worth"
The entire story is here.